Know exactly what you're getting.
We offer a variety of products, food, and medications to keep your pet happy and healthy. Our in-house pet pharmacy is stocked with parasite preventatives and prescription medications used to treat injuries and illnesses of all kinds.
Our top priority is your pet's safety. At County Line Animal Hospital, the prescription medications we carry and sell are purchased directly from the manufacturers. You know exactly what you're getting and we are available to answer any questions.
Medications may take 2 - 3 days to be approved. Please call a few days before you need the medication to allow enough time so that your pet will not run out.
Request a pet medication refill >
---
Shop Our Online Pharmacy: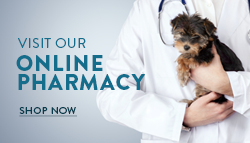 ---
Scan the QR code below to register for Hills to Home.
With Hill's to Home you can shop online from the comfort of home, save on your pet's prescription diet, and enjoy exclusive offers and FREE shipping!